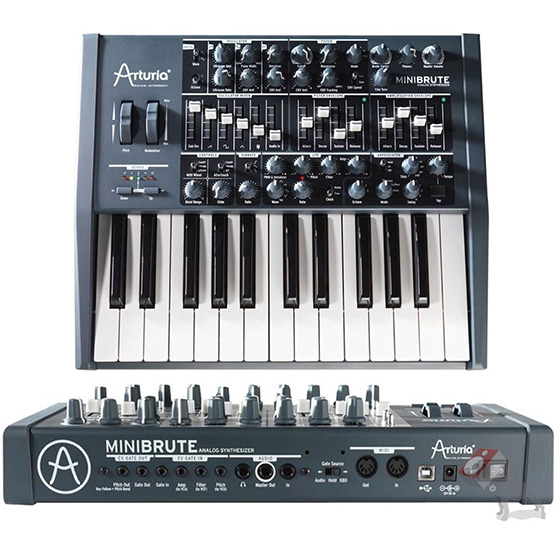 arturia-mini-brute
Arturia Mini Brute
Availability:
in stock
1 item(s)
Product Code:
ARTMINIBRUTE
1. Oscillator/Sub:
Sawtooth, Pulse, Triangle waves with unique modifiers. Ultra Saw makes for huge sounds, Metalizer adds complex harmonics to the triangle wave. Sub Osc will rattle the house.
2. Steiner-Parker Multimode Filter:
Beefy filter with Low Pass, High Pass, Band Pass, and Notch modes. Resonance can be pushed into self oscillation.
3. Brute Factor™:
The Brute Factor™ can add subtle drive effects to full blown intermodulation havoc.
4. Two 4 Stage Envelopes:
ADSR Type Envelope generators with a fast/slow mode allow for the sharpest attacks or for extra long release times.
5. Arpeggiator:
Flexible arpeggiator allows for instant melodic phrases. Syncs to MIDI clock over USB and MIDI In to play in sync with your favorite DAW.
6.Two LFOs:
The main modulation LFO supplies 6 waveforms and can run in sync to the Arpeggiator. Bipolar modulation destinations allow for an amazing variety of sonic possibilites. The Vibrato LFO allows for trills and standard vibrato.
7. Performance Controls:
Mod Wheel & Aftertouch destinations, Glide and Pitch Bend amounts can all be set.
8. Keyboard with Aftertouch:
25-note keyboard with velocity and aftertouch. Octave buttons allow a range of 6 octaves."
9. Oscillator Mixer:
Allows for mixing the levels of the suboscillator, the individual waveforms of the main oscillator, the noise generator and the external inputs.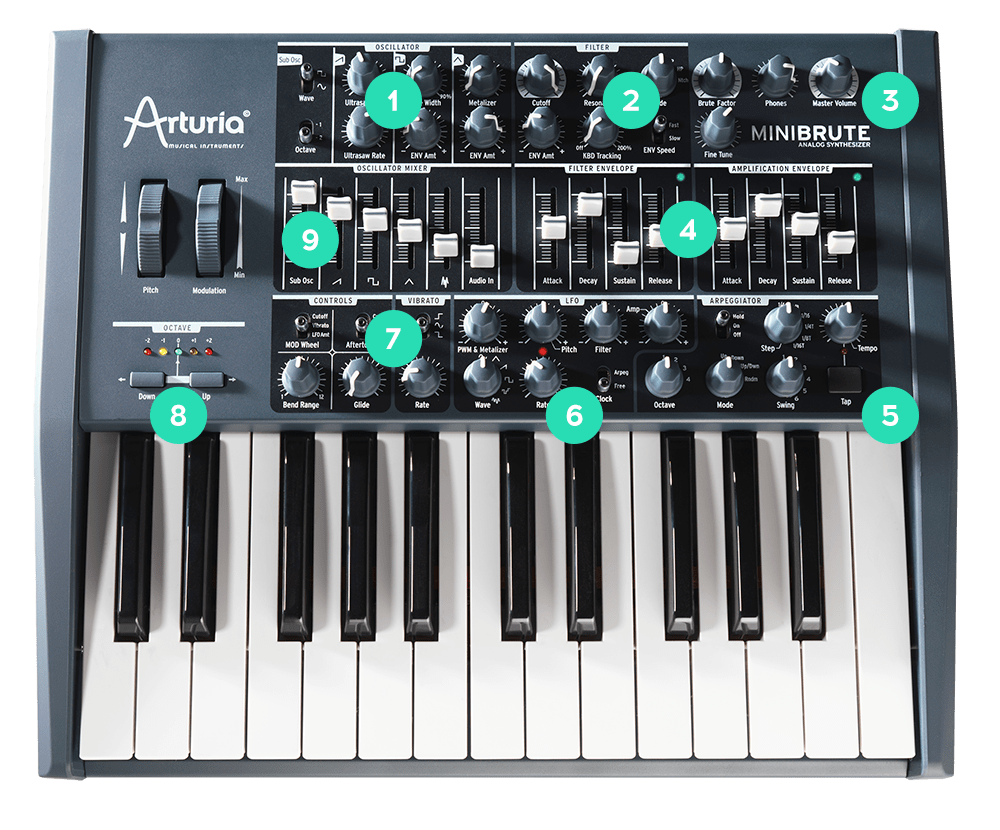 10. CV Gate In/Out:
Connect MiniBrute with your vintage analog gear.
11. Audio In/Out:
Process audio through MiniBrute; connect it to your favorite audio devices.
12. MIDI In/Out:
Connect and sync MiniBrute to any DAW or hardware MIDI equipment.
13. USB In/Out:
Control MiniBrute from your DAW or use it as a master keyboard.