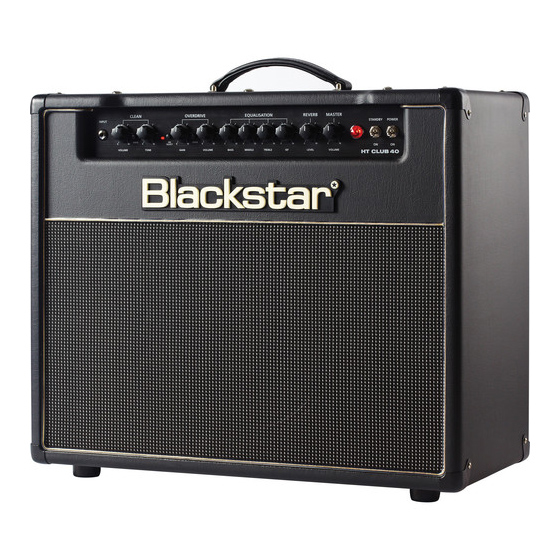 blackstar-htclub40v
Blackstar HT Club 40 valve combo
Availability:
in stock
1 item(s)
Product Code:
BLKHTCLUB40V
Rounding out the middle of Blackstar's Venue series is the Club 40 Combo Amplifier. Using dual EL34 power tubes, the HT Club 40 projects 40 watts of clean or distorted guitar tone out of its 12" Celestion speaker, enough to fill a medium-sized venue.
The HT Club has two channels, each equipped with two voicing modes to craft your tone. The Clean channel has Boutique and Modern voicing modes, as well as a Tone control. The Boutique mode mimics a "Class A" power amp with increased middle and top end, and can be overdriven at higher volume settings. The Modern mode has a tighter sound with greater bass response and clean headroom, more akin to a "Class AB" power section. For additional distorted sounds, the Overdrive channel has its own traditional tone stack consisting of Bass, Middle, and Treble controls, as well as dual voicing modes. When the Voice switch is in the "out" position, the overdrive takes on a classic crunchy tonality with a tight response. Press the Voice switch in, and the amp will apply more mid-band gain, adding more body for a smoother sound with a looser response.
To complement the traditional tone stack on the overdrive channel, the HT Club includes Blackstar's ISF for an additional layer of tone control. The ISF shifts the response of the tone stack between a US-type response with tighter bottom end and more aggressive mids at one end, and a less-aggressive, more "woody" UK-type response on the other. Between the two extremes lies an infinite number of alternative tone choices.
Finally, the HT Club features a natural-sounding digital reverb that enhances the amp's clean and dirty tones. A Dark/Light switch allows the overall reverb characteristics to be modified and adjusted for different tastes and playing styles.
Additional amenities on the rear panel of the amp include an effects loop which can be configured for -10 or +4 dB, depending on the type of equipment being run in the loop. For studio recording and larger venues, a cabinet-voiced direct-out sends a line-level signal which can be routed to an audio interface or a mixing board, precluding the need for a microphone.
Two footswitchable channels allow you to switch between the Clean channel and the Overdrive channel
Enhanced tone controls
Separate Voice switches for the Clean and Overdrive channels
Effects loop with effects level switch
ISF (Infinite Shape Feature) can take you from the USA to the UK and anywhere between in seconds
Speaker emulated output