Guitar Effects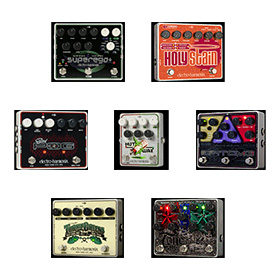 Superior Technology • Meticulous Craftsmanship • True Bypass. HardWire pedals modify your guitar tone only when you want.

The DL-8 is an 8 second true stereo delay with 11 delay settings ranging from analog tape, reverse and modulated delays to a 20 second looper.

DIGITECH HARDWIRE POLYPHONIC TUNER

DIGITECH HARDWIRE STEREO TREMOLO/ROTARY

The TL-2 is an analog metal distortion pedal

Our flagship overdrive/distortion covers vast tonal real estate and redefines versatility. Like a database of great tone, the EHX TORTION's full complement of features and controls make dialing in inspired guitar sound intuitive. Whatever the era,...

Completing the powerful trilogy forged by the B9 and C9 Organ Machines, the new KEY9 emulates the world's most coveted electric pianos and more.

The polyphonic MEL9 uses the same extraordinary technology as the B9, C9 and KEY9 to transform your axe and resurrect the sound of vintage tape-based keyboards. - Pays homage to nine of the coolest Mellotron® sounds: Orchestra, Cello, Strings,...

The most in-demand analog delay ever built. Musicians love it and collectors cherish it. Experience the analog edge. Nothing can compare to the organic sound of analog delay, and no one does analog like the Deluxe Memory Man! Up to 550 mS of vibrant...

Improve your Groove. The phattest, funkiest envelope filter ever made! Switchable Boost and Filter modes allow for an unlimited supply of new auto-wah effects that drip with attitude. Increased frequency response and improved signal-to-noise ratio...