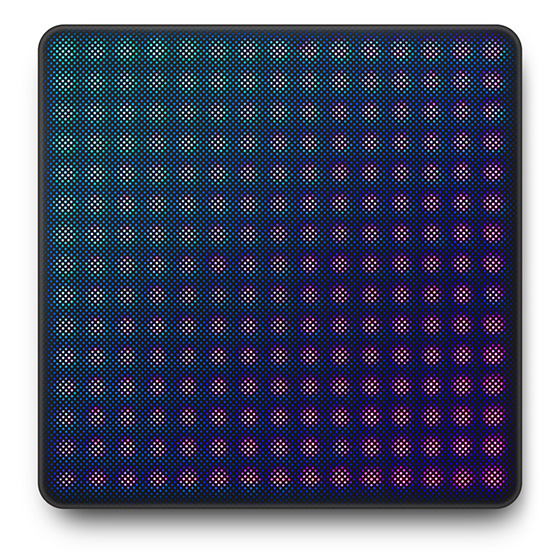 roli-lightpad-block-midi-controller-surface
ROLI Lightpad Block Midi Controller Surface
Availability:
in stock
24 item(s)
A powerful instrument that's easy to pick up
Music is a language that everyone understands but few people can speak. BLOCKS changes that. It lets you make music naturally through intuitive gestures on a touch-sensitive playing surface. Each individual Block fits in your hand or your pocket, and they're incredibly powerful. Just connect BLOCKS to NOISE, the free iOS app, and you have a wide array of sounds and effects to explore.
Build as you grow
BLOCKS introduces a new, modular way to make music. You can arrange your Blocks in many configurations to create kits that are perfect for you. The Blocks connect magnetically, so you simply add more Blocks to do more things. BLOCKS is a modular music studio that you build as your skills and interests grow.
Start with the Lightpad Block
The Lightpad Block is the center of the BLOCKS system. You make music through natural movements on the Block's smooth, glowing, pressure-responsive surface. Drop beats and shape melodies by striking, sliding, and pressing your fingers on the surface. Illuminated grids help you find your notes. Light Trails guide you to learn musical gestures quickly. To get started on BLOCKS, all you need is a Lightpad Block and NOISE, the iOS app.
Add lots of NOISE
NOISE is the iOS app that powers BLOCKS. It's free to download on iPhones and iPads. On NOISE you choose from over 100 sounds to play on your Lightpad Block. You also use the app to record loops — so you can easily make a track. Everything works wirelessly. With NOISE, BLOCKS becomes as powerful as a professional-grade synthesizer.
More control is one click away
The Live Block and Loop Block make it even easier to access the features you use most to make music. At the touch of a button you can record your beats, play them back, switch scales, play chords and arpeggios, and more. They connect to your Lightpad Block with a click, putting even more control at your fingertips.