Keyboards Accessories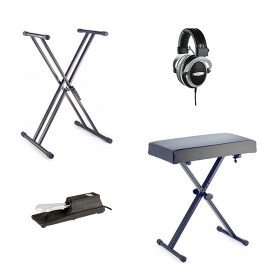 Manufacturer:
Select manufacturer
NORD C2 soft case, featuring a plush interior, thick padding, and the distinctive Nord red color.

COMMA TYPE SUSTAIN PEDAL Classic piano style sustain pedal Momentary contact pedal with normally open or closed contacts by means of mode selector switch, ideal for all Korg, Casio, Yamaha, Akai, Roland, Studiologic, Ensoniq, Kawai and other...

Heavy Duty, Double-Brace "X" with Height & Tilt Adjustable Second Tier Leg depth: 26" - 66 cm Main Tier depth: 17.9" - 42.5 cm Second Tier depth: 15.8" - 41 cm Second Tier angles: 90, 77, 64, 51 deg Folded height: 40.4" - 102.7 cm Overall...