Professional Audio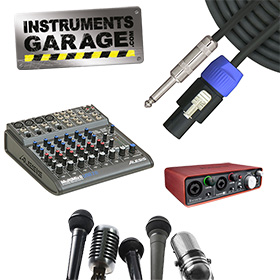 Manufacturer:
Select manufacturer
A built-in analog-to-digital converter allows you to use the 16.5' GuitarLink with your favorite guitar (or other instrument using a 1/4" cable).

Alesis delivers pro-grade USB speaker performance to the computer desktop. M1 Active 320 USB speakers enabl

M1 Active MkII M1 Active Biamplified Reference Monitor Professional Accuracy, Clarity and Performance in a

the 16.5' MicLink works with any dynamic microphone and puts audio into your favorite audio program with 16-bit/44.1kHz digital sound quality

The Alesis MultiMix 8 USB FX compact tabletop mixer gives you low-noise analog electronics and high-quality digital effects, all in one affordable package

PhonoLink makes it easy to direct-connect nearly any turntable, tape deck, mixer, or other stereo, line-level audio source to USB for stereo recording.