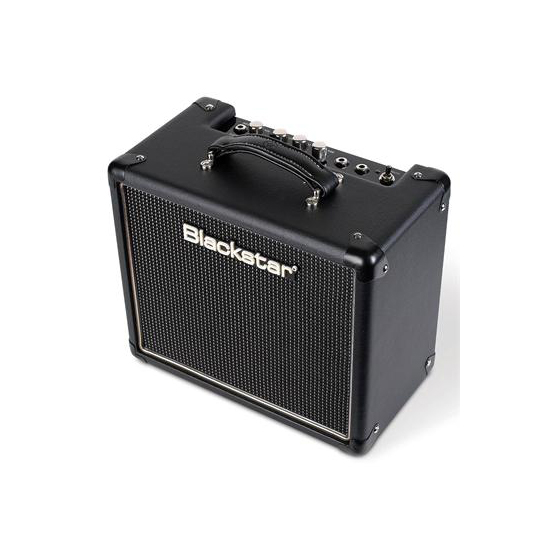 blackstar-ht1valvereverb
Blackstar HT 1 Valve reverb
Availability:
in stock
3 item(s)
What can a single watt do for you? A whole lot, if it's coming out of the Blackstar HT-1R! Whether you're seeking a great-sounding practice amp or want to be able to saturate that tube power section in the studio, you'll love what this mighty little combo amp does for you. You get Blackstar's ISF (Infinite Shape Feature), which takes the HT-1R to both sides of the tonal pond (both American and British-style voicings). Dual channels give you even more sonic options on the fly, while a speaker-emulated output makes recording incredibly easy. The HT-1R shines as a practice amp; it even includes a handy MP3/line input so you can jam along with your favorite tunes.
The Blackstar HT-1R is packed with a massive variety of tube tones, by virtue of Blackstar's Infinite Shape Feature (ISF). When turned fully counterclockwise, this exclusive feature lends American characteristics to your voice with a tight bottom end and powerful mids. Turned all the way to the right, you'll enjoy a British sound, which is woodier and less aggressive.
The level of tone packed inside of the HT-1R is impressive for a tiny 1-watt amp. And it's loaded with features that are sure to add excitement to your practice sessions. A speaker-emulated output injects your recordings with the dimensional sound of a miked-up cab and loads your amp properly for silent practice. You can also run it straight to a PA. A stereo MP3/line input makes jamming along with your favorite songs and backing tracks a breeze. You also get an external speaker output adding an extension cab. Beyond that, the HT-1R features a built-in reverb that provides lush ambience without washing out your playing.
Since 2007, Blackstar Amplifiers have created quality guitar amps for electric guitarists. From the roaring British tone of their HT Club series to the tonal versatility of the Series One, you can find a suitable amp ranging from practicing in your rooms to rocking out in arenas. Blackstar's award-winning guitar pedal line, packed with the patented ISF (Infinite Shape Feature) control, also provide electric guitarists with a palette of sonic options.
1-watt all-tube 1 x 8" guitar combo amplifier
2 channels boast an impressive range of character
Coax sparkling highs and lucid lows from the boutique-style clean channel
Overdrive channel supplies enough gain for blues, classic rock, and hard rock
Infinite Shape Feature (ISF) dials in everything from American to British high-gain tones
Speaker-emulated output for recording or running straight to a PA
MP3/line input for jamming along with your favorite tunes
Digital reverb adds dimension to your playing without washing it out